KAMP KRIVIT

Kamp Krivit offers your K9 kid a safe, secure, and supervised "pack" environment which enables your dog to stay fit mentally and physically, allows them to socialize in a pack environment and keep their "dogspeak" intact.
Safety for all our Kampers is a priority. In order to minimize the risk for all our playgroups potential Kampers will be assessed by our Kamp Kounselor before admittance into Kamp Krivit. Kamp Kounselor Maria will be assessing your dog's personality, energy levels, stress levels and looking for any signs of aggression, whether people or pooch oriented.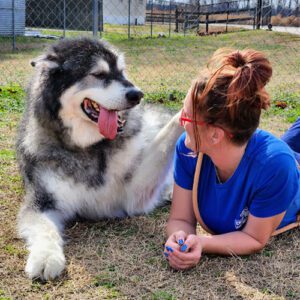 About our Kamp Krivit play groups
Fishers:
(Low Play Energy)
-These Kampers like to sunbathe and stroll. Feeling the wind in their hair with friends.
Kayakers:
(Medium Play Energy)
-These Kampers rapidly play hard and then like to wander yard with friends.
Hikers:
(High Play Energy)
-These Kampers know to reach their peak of energy through fast-packing with friends.
Navigators:
(Mixed Play Energy)
-These Kampers know how to steer up their unique energy in multiple directions.
Doggy Daycare
Monday – Friday
8:00 AM – 4:00 PM (Full Day)
8:00 AM – 12:00 PM (Half Day)
*On Wednesday, our Clinic is closed from 12:00 PM – 2:00 PM, Half day Kampers must be picked up by 12:00 PM.
Requirements
Up to date on Core Vaccinations including Da2PPLv, Bordetella, Influenza and Rabies and Flea/Tick prevention.
Adult Dogs must be spayed and neutered.
Puppies must be spayed and neutered by 6 to 8 months of age.